Pada para pendidik yang ingin mengintegrasikan teknologi dalam PNP boleh gunakan educational apps yang tersedia berdasarkan SAMR model dan juga Padagogy Wheel version 5.0. tak tau padogogy wheel tu apa? boleh tengok gambar di bawah ni.
.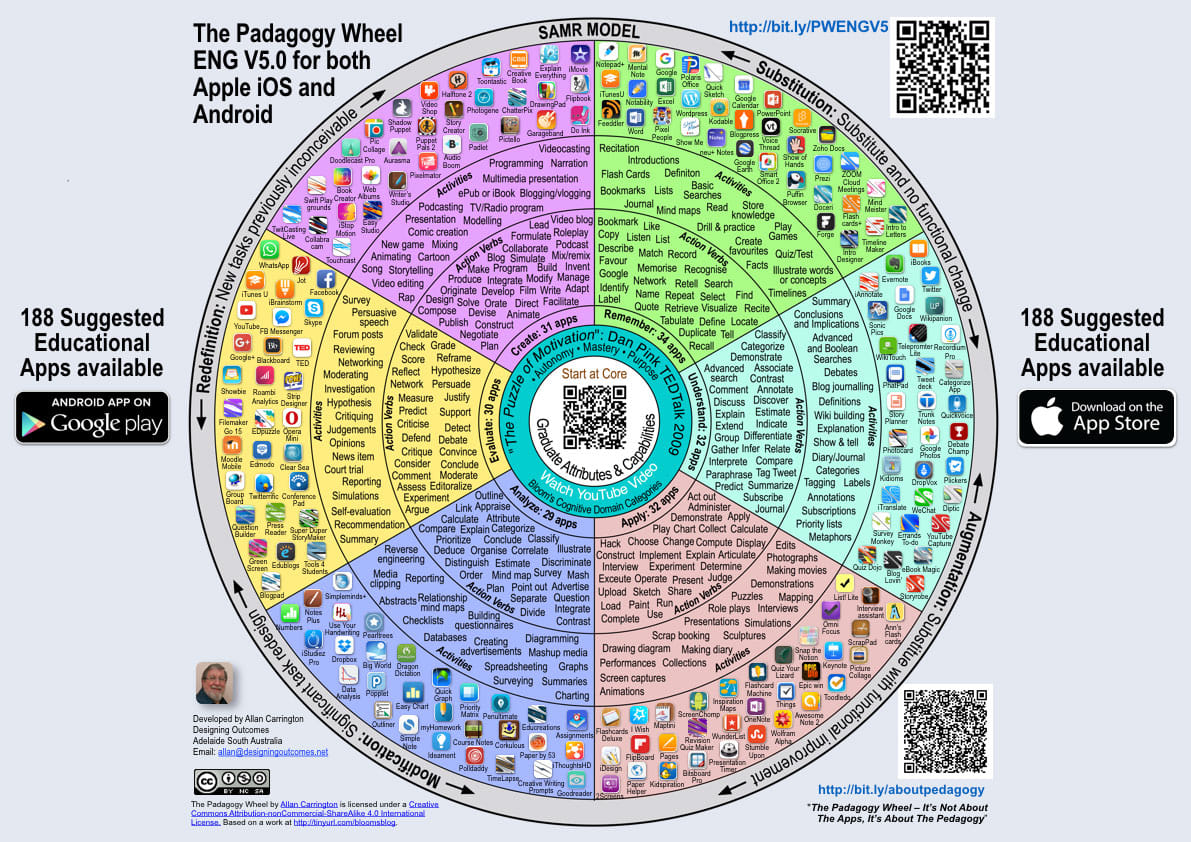 Apa yang padogagy wheel ni senaraikan? ada 188 Apps yang dicadangkan yang boleh digunakan oleh warga pendidik.
Padogogy wheel ini menyenaraikan aplikasi-aplikasi tersebut berdasarkan SAMR model  
.
Apa itu SAMR model?
.
SUBSTITUTION.- act as direct tool for substitution with no real change.
Maknanya aplikasi tersebut digunakan terus sebagai penganti guru. Contohnya ialah aplikasi KAHOOT. Walaupun KAHOOT dilihat sebagai "game",Namun,result analytic bagi jawapan yang betul dan salah dalam KAHOOT boleh digunakan untuk proses evaluation. Tahap pemahaman pelaajr boleh diukur analysis yang kahoot sediakan.
.
AUGMENTATION – act as direct tool for substitution with some functional improvement.
.
MODIFICATION– allow for significant task redesign.
Pelajar yang akan gunakan teknologi untuk menyiapkan task.
.
REDEFINITION– creation new tasks that were not conceivable before.
Pelajar merekacipta sesuatu.
.
Yang terbaik ialah apabila penggunaan teknologi dalam pembelajaran digunakan sehingga level modification dan redefination. 
walaupun ada 188 aplikasi yang boleh digunakan, tidak semestinya semuanya sesuai dengan PNP.
Gurulah yang perlu memlilih untuk  mengintegrasikan teknologi dan aplikasi yang sesuai dengan objektif pembelajaran yang telah ditetapkan. 
Selamat memilih aplikasi anda!